Nearly 60 million people across the Northeastern US are under a heat watch, warning or advisory from the National Weather Service as the worst heat wave of 2018 scorches the most populated region of the country.
Nearly 100 million people will see temperatures climb above 95 degrees Fahrenheit this week, with a majority of those residing in the eastern third of the nation.
Several high-temperature records have been set since the heat wave began over the Rockies and Midwest late last week, with Denver tying its all-time record high of 105˚ F on Thursday.
 Excessive-heat warnings are posted for much of New York and New Jersey, where high temperatures and humidity "will combine to create a dangerous situation in which heat illnesses are likely," according to the National Weather Service.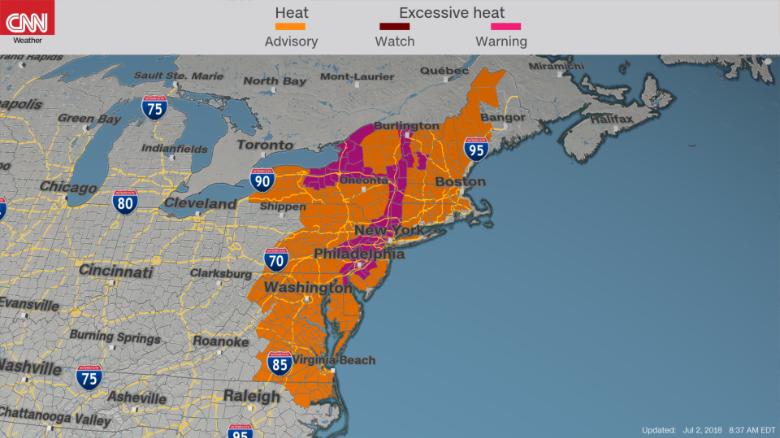 Residents
 are warned to
 "drink plenty of fluids, stay in an air-conditioned room, and stay out of the sun," the agency says.
Overnight low temperatures are expected to dip only into the upper 70s, which will not allow buildings — and the people inside them — much chance to cool off. This lack of overnight cooling 
has proven to be deadly in past heat waves
 impacting urban areas.
New York City reached 97˚ F on Sunday, its hottest day of the year so far and tying a record for the day set in 2012. Monday and Tuesday will bring more of the same.
While temperatures topping 90 degrees are not too uncommon for New York City, it is rare to see the heat last more than a couple of days.